Welcome to the vibrant city of Miami, where sun-soaked beaches and sparkling ocean waters are just the beginning of your adventure. While lounging on sandy shores is undoubtedly a must-do activity here, there's so much more to explore in this tropical paradise. So why not embark on a thrilling boat charter experience that will take you beyond the beaches and into Miami's captivating waterways?

Whether you're seeking adrenaline-pumping watersports, private parties with friends, or simply a unique way to discover Miami from a whole new perspective, renting a yacht or chartering a boat is the perfect solution. Get ready for an unforgettable journey as we dive into all the incredible experiences waiting for you aboard your own floating oasis. Let's set sail!
Navigating Miami's Intracoastal Waterways
As you embark on your Miami boat charter adventure, one of the highlights is undoubtedly navigating the city's intricate network of Intracoastal Waterways. These picturesque canals stretch for miles, offering a scenic route that winds its way through stunning waterfront neighborhoods and iconic landmarks.

Cruising along these waterways gives you an exclusive glimpse into the glamorous lifestyle of Miami's elite residents. Marvel at the luxurious mansions lining the shores, each more extravagant than the last. Immerse yourself in the beauty of lush tropical foliage and swaying palm trees as you glide past waterfront parks and marinas.

Keep your eyes peeled for famous sights like Millionaire's Row, where opulent mega-yachts are moored alongside impressive estates. Catch glimpses of celebrity-owned properties or even spot a few familiar faces enjoying their own boating adventures.

With calm waters and well-marked channels, navigating Miami's Intracoastal Waterways is a breeze even for novice sailors. Feel free to take control behind the wheel or sit back and relax as an experienced captain steers your vessel through this aquatic wonderland.

No matter which direction you choose to explore – north towards Fort Lauderdale or south towards Key Biscayne – every turn reveals new vistas waiting to be discovered. Soak up the sun-drenched scenery and let yourself get lost in the enchanting allure of Miami's waterways – it truly is a journey like no other!
Watersports Extravaganza: Jet Skiing, Paddleboarding
If you're looking to add some action and adventure to your Miami boat charter experience, then get ready for a watersports extravaganza! Miami's Intracoastal Waterways provide the perfect playground for jet skiing and paddleboarding.

Hop on a jet ski and feel the rush as you speed across the pristine blue waters. With the wind in your hair and adrenaline pumping through your veins, you'll have an unforgettable thrill ride. Whether you're a beginner or an experienced rider, there are rental options available for all skill levels.

For those who prefer a more laid-back activity, paddleboarding is a great option. Grab your board and glide along the water's surface while taking in breathtaking views of Miami's skyline. It's not only a fantastic workout but also an opportunity to connect with nature.

With so many picturesque spots along the coast, paddling around on a SUP (stand-up paddleboard) allows you to explore hidden coves and mangrove forests that can't be reached by land. You might even encounter some local wildlife like dolphins or manatees during your adventure!

Whether it's soaring through waves on a jet ski or peacefully paddling on a paddleboard, these watersports activities are guaranteed to make your Miami boat charter experience even more memorable. So grab your gear and get ready for an exhilarating day out on the water!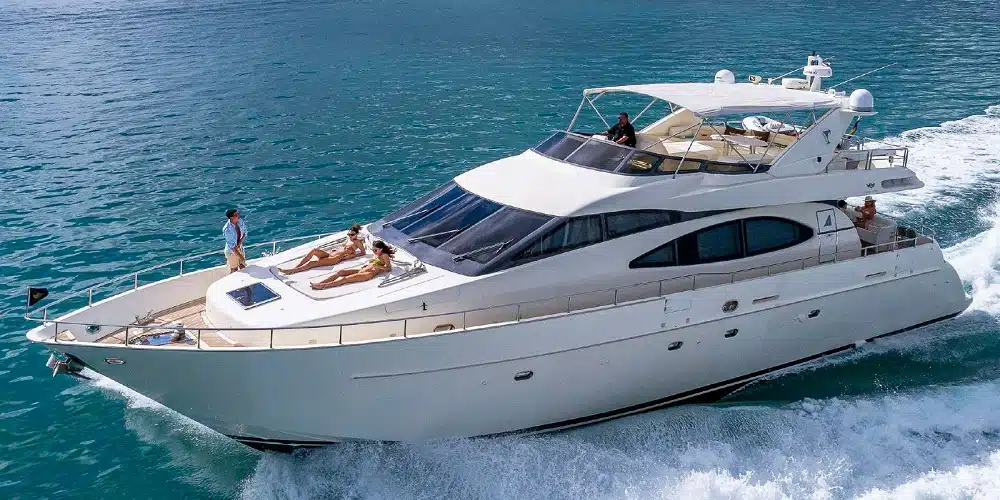 Private Parties and Events Afloat
Looking to take your party to the next level? Look no further than a private boat charter in Miami! Whether you're celebrating a birthday, hosting a corporate event, or simply want to throw an unforgettable gathering with friends, chartering a boat allows you to do it all in style.

Imagine cruising along Miami's stunning waterways, sipping on cocktails and enjoying delicious food as the sun sets over the city skyline. With a boat charter, you have complete control over every aspect of your event. From choosing the perfect vessel that fits your group size and preferences to customizing the menu and entertainment options – the possibilities are endless.

One of the best things about having a private party or event on board is that you have exclusive access to secluded spots and hidden gems that can only be reached by water. You can anchor at picturesque sandbars, jump into crystal-clear waters for swimming or snorkeling adventures, or even visit nearby islands for some exploring.

Not only does a boat charter offer privacy and exclusivity for your event but it also provides breathtaking views of Miami's iconic landmarks such as Star Island, Millionaire's Row, and Fisher Island. Your guests will be treated to panoramic vistas while enjoying their time onboard.

Whether you're planning an intimate gathering or throwing an extravagant soirée with live music and dancing under the stars, a yacht rental Miami Beach offers unparalleled luxury and flexibility. So why settle for traditional venues when you can create memories that will last a lifetime aboard your own floating oasis?

Book your private party or event today with one of Miami's premier boat charter companies and get ready for an experience like no other!
Conclusion: Your Miami Boat Charter Experience Awaits!
As you can see, there is so much more to explore in Miami beyond its beautiful beaches. Navigating the city's Intracoastal Waterways offers a unique and exciting way to see the sights, try out thrilling watersports, and host unforgettable private parties and events.

Whether you're looking for a relaxing day on a luxury yacht or an action-packed adventure on jet skis or paddleboards, Miami has it all. By opting for a boat charter experience, you have the freedom to customize your itinerary and make memories that will last a lifetime.

So why wait? Gather your friends or family together and embark on an extraordinary journey through Miami's stunning waterways. Book your yacht rental in Miami Beach or arrange for a boat charter Miami today. The possibilities are endless, and your next great adventure awaits!